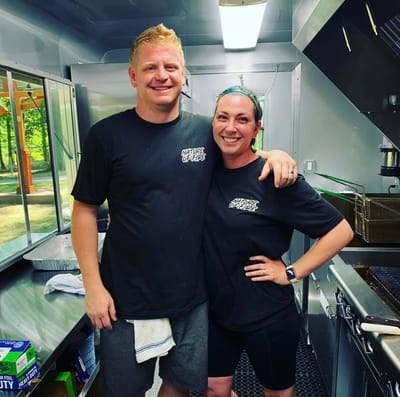 Tony Ferguson - our founder, evangelization director, and chef - took a long and winding road to start Nature of Fire Evangelization. Years ago, Tony's worldly days included running night clubs on the South Side of Pittsburgh, which led to him opening his own bar and restaurant, Ferguson's Pub, in his hometown of South Fayette. He then had a deep conversion and studied at St. Paul's Seminary and the Franciscan Capuchins. He discerned out and now has a wife and 3 kids. No matter which direction the Lord called Tony, there has always been a constant theme in his life: community built around good food.
In 2018 Tony left his job at a wealth management company to focus on evangelization full time. Father Dennis Yurochko and Tony met over breakfast to discuss the difficulties facing parishes in the Diocese of Pittsburgh. Less than a month later, they had decided on a new way to evangelize the people of Father Dennis's three parishes which were beginning the process of merging into one. Their revolutionary idea was to take all of the good parts that Tony learned from his days in the service industry and infuse those with Jesus. The main part of every parish "event" was to gather around a delicious meal to build community. The crazy part was that everything was done with no charge or reservations…and it worked!
In a time when so many parishes are dying, Corpus Christi Parish is growing. Father Dennis and Tony felt called to help other people and parishes that were struggling. They started a non profit together, with Tony's wife Angie, and prayed about how to help. Their prayers were answered in an unexpected way! Two parishioners that had been moved by the evangelization efforts in the parish emailed Tony with an amazing question: "Would you be interested in a food truck for evangelization?!" Two months later, our custom-built food trailer was delivered and Nature of Fire became a mobile evangelization machine!